5 Best Cooking Shows on Netflix
Do you ever want to watch a feel-good show but don't want to invest in a story? Cooking shows can rescue you. The kings of feel-good and easy-watching, cooking shows are some of the most interesting shows on TV and streaming sites. Netflix has its own range of food and cooking shows. All the culinary destinations, from major food capitals to the big pantries, these shows have everything. You can get educated about certain foods and at the same time get a high dose of adrenaline rush. And who said that these shows are boring, the drama in cooking shows can sometimes outclass the other shows. 
So, if you're looking to learn about foods, do second-hand traveling, or just looking for ideas about what to cook today, these shows are your ultimate answer. Kinetic Internet will be your travel partner for an uninterrupted streaming experience during your special cooking journey. A smooth internet connection won't disrupt your culinary journey.
However, with that sorted, check out some of the best cooking shows on Netflix that you can enjoy right now.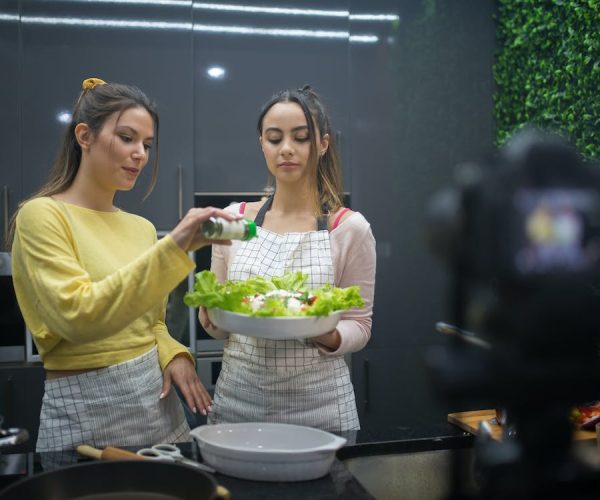 Street Food: USA
Don't we spend hours watching those yummy street food videos and secretly yearn we were eating that instead of the vlogger? Here is a show that takes the street food hunt to another level. Street Food: USA takes you on a special countrywide tour where you'll be shown amazing street side food famous in those places. The featured cities are New York, Miami, and New Orleans this time. 
The show also talks to the casual chefs and people about how delicious the food is and how important street food is to them. Those amazing dishes can easily give tough competition to anything that is being sold in some fancy restaurant. As, what's more, delicious than a street-side loaded hot dog?
Ugly Delicious
A delicious personality-fueled series; Ugly Delicious is a travel doc, culinary history, and in equal parts a reality show. Celebrity chef David Chang has managed to bring all the taste and heat of his personality into the show. Chang travels all around the world to learn more about the history and taste of some of the most famous dishes of people. He has fixed a rotating celebrity guest lineup including Stephen Yeun and Danny McBride. 
One of the most watched episodes of the show was focused on kids' food as Chang processed the birth of his firstborn. So are you in for a crash course on multiple aspects of the food you love to eat? Unless you are a food historian, this ride is going to be entertaining and informative.   
The Final Table
Get ready to experience a hit of adrenaline rush with this amazing Netflix original, The Final Table. In this, there are 12 pairs of chefs who compete through different rounds to secure their place on the final table. The famous guest chefs include Grant Achatz from the US, Enrique Olvera from Mexico, Clare Smyth from the UK, Andoni Aduriz from Spain, Helena Rizzo from Brazil, Vineet Bhatia from India, Carlo Cracco from Italy, Yoshihiro Narisawa from Japan and Anne-Sophie Pic from France. 
The theme of the show is that each episode's focus is the national dish of one of the countries. The judges range from celebrities to critics. As the teams get eliminated, the final table is presented by Andrew Knowlton to the finalist pair.
The Great British Baking Show
The Great British Baking Show really is one of the greatest cooking and baking shows of all time. And the good news is, you can now stream it on Netflix. It's a fun and unique show where the winning prize is an engraved glass cake stand and not some heavy price money. 
The judges aren't famous chefs of Michelin-star restaurants. They are ordinary people from all across Britain including home bakers, immigrants, stay-at-home parents, etc. Opposite to other intense cooking shows, the GBBS participants bake for love in a rich British countryside. This makes it an easily loved show and is currently very popular on Netflix.
School of Chocolate
There are two amazing things about this special show. First, if you love watching cooking shows but hate it every time someone is eliminated, this is the show for you. No one goes home in this show. Second, it's full of chocolate! The show doesn't follow the same format as others. Instead, it is like a big masterclass where the participants and the audience learn something daily. 
The master chocolatier of the show is none other than Amaury Guichon. He leads eight chefs as they learn the art of chocolate and pastry. It's a win-win for both, the participants and the audience. Both get to learn from the maestro and also get to feast on delicious chocolate views.
Conclusion
We are already feeling hungry after writing this article. Stream these amazing shows and experience the cooking and baking arts from all around the world. Learn about the stories behind dishes, experience the excitement of competition, or just watch it for delicious visuals. Choose a show of the format of your liking and enjoy!